The second gold coin in the American Liberty coin program, issued by the United States Mint in 2017, was also intended to celebrate the 225th anniversary of the founding of the United States Mint in 1792. Therefore, the coin was given the dual date of "1792-2017".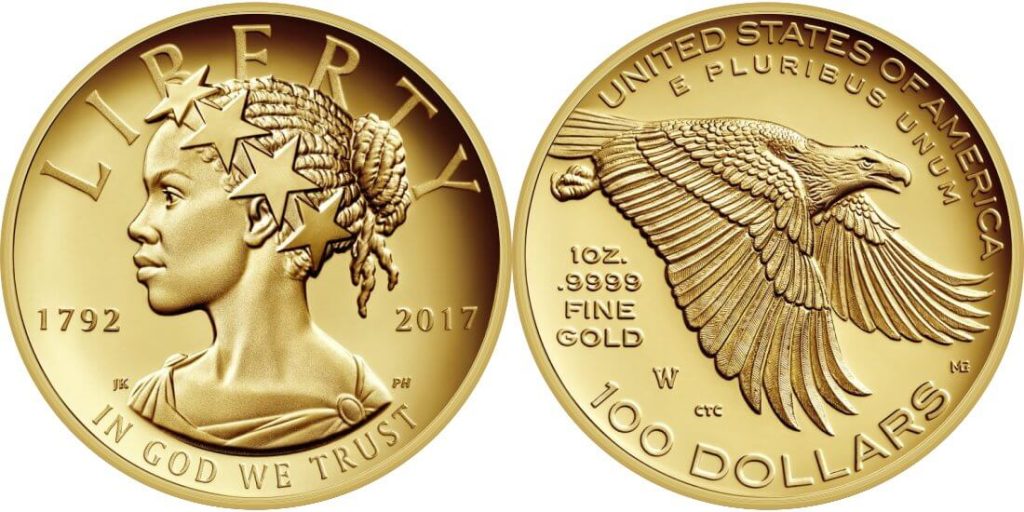 The 1792-2017-W American Liberty $100 Proof High Relief Gold Coin (Buy on eBay) obverse, designed by Justin Kunz, was the first U.S. coin ever issued that features an African American female representing the classic American coinage motif of Liberty.
In this case, the design is a left-facing side profile of a confident-looking young Black woman with braided hair wearing a diadem with four stars that resembles Thomas Crawford's Statue of Freedom that has rested at the top of the dome of the United States Capitol building since 1863. It was engraved by Phebe Hemphill.
This modern rendition of Liberty sparked controversy in certain numismatic circles that perceived the design as "politically correct." But that criticism misses the point that broadening the aesthetic of Liberty to encompass African Americans who have traditionally been left out of our coinage demonstrates that the ideals of freedom and equality first set forth in our Declaration of Independence apply to all Americans. Others criticized aspects of the design, such as how large the stars are on the diadem.
The reverse shows an eagle on the downstroke flying from left to right, designed by Chris Costello and sculpted by Michael Gaudioso. This bold and powerful eagle in flight has its eyes toward opportunity and a determination to attain it.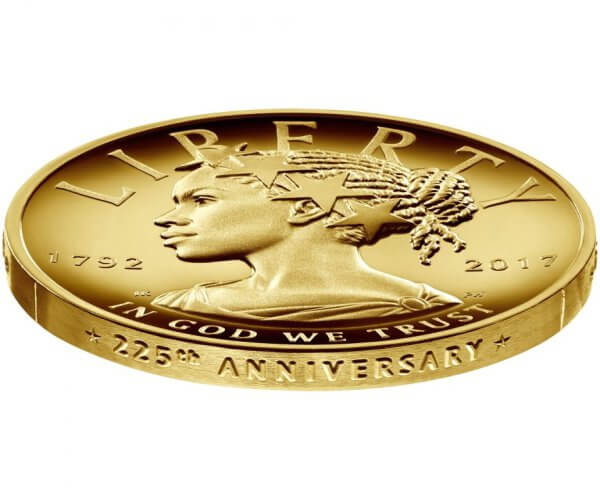 The coin received substantial mainstream press coverage because the design on the obverse was such a departure from past American coinage. When the design was unveiled in January 2017, then-Treasury Secretary Jacob Lew remarked: "From the very beginning, our nation's currency and coinage was telling a very important story about who we were and the shared experience we were seeking. Of course, the United States continued to struggle with achieving liberty for all. For the last 225 years, the Mint has been doing its part to close that gap and remind us of the principles and values that bind us through our currency and coinage."
This Proof, 24-karat gold coin—the first Proof to be struck in high relief—went on sale on April 6, 2017, for an initial price of $1640 that varied weekly. It had a maximum authorized mintage of 100,000 coins.
First-day sales were modest at 14,285 or 14.3% of the maximum, and the coin remained on sale for an extended period. It was still available at the time of writing for a price of $2,665, and cumulative sales were 35,627 through July 10, 2022.
On February 2, 2019, the coin won a Coin of the Year award for Best Gold Coin during the World Money Fair held each year in Berlin, Germany. Accepting the award, Mint Director David J. Ryder said: "It is my great honor to receive the award for Best Gold Coin on behalf of the United States Mint. The coin being recognized is truly special to our team. It was minted in 2017 to mark the 225th anniversary of the United States Mint. To observe this milestone, we proudly introduced the 2017 American Liberty 225th Anniversary Gold Coin featuring a modern rendition of Lady Liberty. This coin garnered a great deal of attention and sparked an interest in collecting for many who had never considered the hobby before."
2017 American Liberty 225th Anniversary Gold Coin Artist Information
Obverse Sculptor: Phebe Hemphill (Medallic Artist)
Obverse Designer: Justin Kunz (Artistic Infusion Program)
Reverse Sculptor: Michael Gaudioso (Medallic Artist)
Reverse Designer: Chris Costello (Artistic Infusion Program)
2017 American Liberty 225th Anniversary Gold Coin Specifications
Denomination: $100
Finish: Proof
Composition: .9999 fine gold
Diameter: 1.205 in. (30.61 mm)
Weight: 1 troy oz. (31.108 g)
Edge: raised lettering ("225th Anniversary")
Mint Mark: "W" (West Point)
2017 American Liberty 225th Anniversary Gold Coin Mintage
2017-W American Liberty 225th Anniversary $100 High Relief Gold Coin: 37,895


< 2015 American Liberty Gold Coin | 2018 American Liberty Gold Coin >