The American Liberty program that was proposed by the Citizens Coinage Advisory Committee was designed to create gold coins that featured modern images of Liberty that reflect the diversity of the United States in the 21st century. These coins were not mandated by Congress but were instead issued under authority granted to the Secretary of the Treasury in federal law that gives them the ability to have gold and platinum coins issued but not silver coins, which require congressional approval.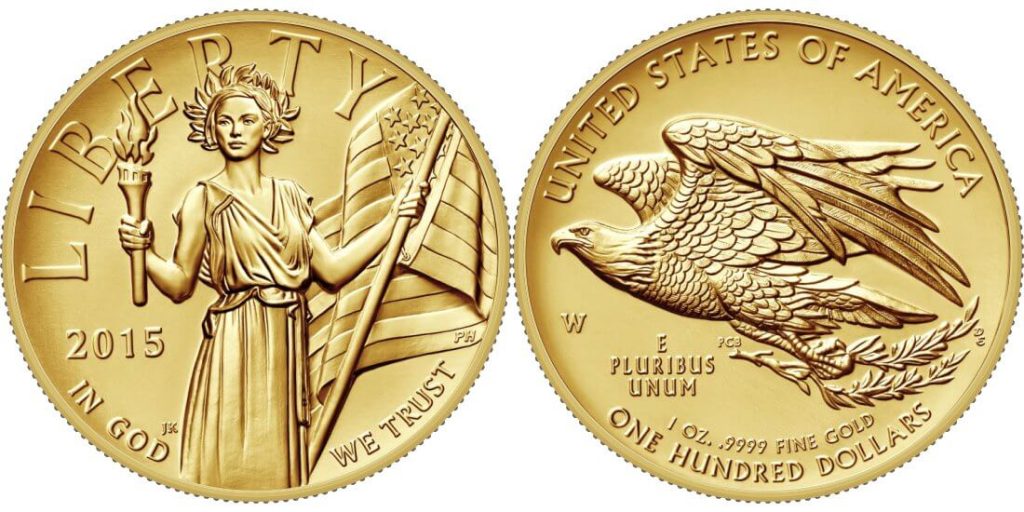 The American Liberty program kicked off on July 30, 2015, when the 2015-W American Liberty $100 High Relief Gold Coin (Buy on eBay) was released. It was the first $100 denomination U.S. coin and was intended to fulfill the artistic vision of Augustus Saint-Gaudens by adapting his ultra-high relief $20 gold coin to the modern era with original designs.
The obverse featured an image of Liberty standing while crowned with leaves and holding a torch in her right hand and an American in her left hand. The design was created by Justin Kunz and sculpted by Phebe Hemphill. Her dress is reminiscent of that worn in ancient Rome, while her hairstyle is modern.
Mr. Kunz explained that portraying Liberty as a modern figure, rather than a traditional one, was not easy and required much thought about "what Lady Liberty represents, what it is that defines our time from past eras" and how to distill all that into a visual statement that is elegant and expresses "faith in our nation's founding ideals."
The reverse featured a motif of a flying eagle reminiscent of the one on the classic Gobrecht Silver Dollar that showed the bird gripping an olive branch in its talons, symbolizing freedom. This side was sculpted by Donald C. Everhart. The design was initially proposed by the CCAC in 2014 as a new reverse for the American Silver Eagle and then in 2015 as a possible design for the U.S. Marshall Service 225th Anniversary $5 Gold Coin.
Producing the coin presented challenges for the U.S. Mint since it was only the second time in the modern era that a high-relief gold coin was struck besides the 2009 Ultra-High Relief Gold $20 Coin, and the new piece strongly appealed to collectors who owned the prior coin.
Issued in business strike mint state, some examples of the coin featured Proof-like surfaces. The coin was initially priced at $1,490, and that varied weekly based on average gold prices. It has been a winner in the secondary market, especially those Proof-like coins.
The mintage was capped at 50,000. When it went on sale on July 30, 2015, 60% of the maximum authorized mintage was sold. The remaining coins were back ordered and continued to be available through early 2016. By January, almost the entire mintage was sold, and the Mint ended sales on March 3, by which time 49,325 coins had been sold.
2015 American Liberty Gold Coin Artist Information
Obverse Sculptor: Phebe Hemphill (Medallic Artist)
Obverse Designer: Justin Kunz (Artistic Infusion Program)
Reverse Sculptor: Don Everhart (Medallic Artist)
Reverse Designer: Paul C. Balan (Artistic Infusion Program)
2015 American Liberty Gold Coin Specifications
Denomination: $100
Finish: matte, Proof-like
Composition: .9999 fine gold
Diameter: 1.205 in. (30.61 mm)
Weight: 1 troy oz. (31.108 g)
Edge: reeded
Mint Mark: "W" (West Point)
2015 American Liberty Gold Coin Mintage
2015-W American Liberty $100 High Relief Gold Coin: 49,325


2017 American Liberty Gold Coin >