On August 23, 2016, the United States Mint released the 2016 American Liberty Silver Medal (Buy on eBay) bearing the same obverse and reverse designs as the 2015 $100 High Relief Gold Coin. These silver medals were released with a mintage limit of 12,500 each for medals struck at West Point and the San Francisco Mint. Buyers were limited to 2 of each medal per order.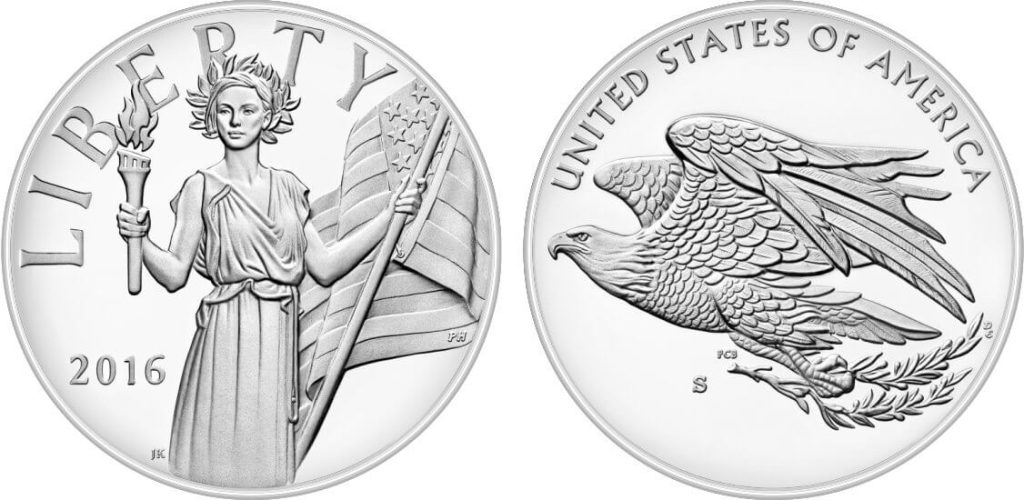 Prior to their release, there was speculation that the medals, which were unusual in featuring mint marks and Proof surfaces, might not sell well because they were not struck in high relief like the 2015 gold coin. The Mint explained that because it had been required to make the medals the same diameter as American Silver Eagles (40.6 mm), it was not possible to also strike them in high relief since high relief pieces at the time had smaller diameters than regular relief coins—as was the case with the 2009 Ultra-High Relief Gold Double Eagle and the 2015 American Liberty $100 Gold Coins.
Nevertheless, due to the strong appeal of the design, the low price point, and the unusually low mintages for both product options—West Point and San Francisco Mint medals—they all sold out in six minutes and immediately began selling for a premium in the secondary market.
As conceived by the Citizens Coinage Advisory Committee, the American Liberty program was intended not just to create modern designs of Liberty but to promote greater excellence in U.S. coin and medal design and showcase the artistic talents of American coin designers and engravers. The 2016 medals certainly did that.
2016 American Liberty Artist Information
Obverse Sculptor: Phebe Hemphill (Medallic Artist)
Obverse Designer: Justin Kunz (Artistic Infusion Program)
Reverse Sculptor: Don Everhart (Medallic Artist)
Reverse Designer: Paul C. Balan (Artistic Infusion Program)
2016 American Liberty Silver Medal Specifications
Denomination: none
Finish: Proof
Composition: .999 fine silver
Diameter: 1.598 in. (40.6 mm)
Weight: 1 troy oz. (31.103 g)
Edge: smooth
Mint Mark: "W" (West Point), "S" (San Francisco)
2016 American Liberty Silver Medal Mintage
2016-W American Liberty Silver Medal: 12,176
2016-S American Liberty Silver Medal: 12,183


2017 American Liberty 225th Anniversary Silver Medals >