On August 10, 2023, the United States Mint released the 2023-P American Liberty Silver Medal (Buy on eBay) struck in high relief with no product limit and a household order limit of 5.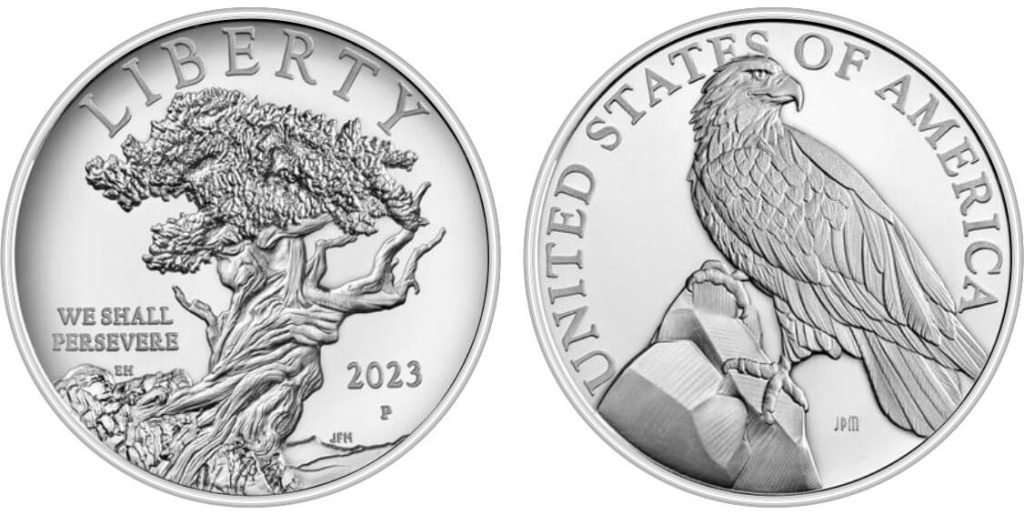 This medal is the latest release in the American Liberty Gold Coin and Silver Medal series that began in 2015 and is devoted to bold, new modern interpretations of Liberty that are central to the American nation.
Since the release of the 2021 coin and medal, the series has focused on depictions of Liberty that do not show it as a female, which it has been shown as on so many U.S. coins in the past. Liberty has also been a perennial theme on American coinage since the beginning when it was required by the law that created the United States Mint.
The 2023 design features Liberty as a bristlecone pine tree shown with its extensive roots on the obverse. This image represents the idea of the perseverance of American Liberty over time.
The bristlecone pine, indigenous to California, Nevada, and Utah, is believed to hold the title of Earth's oldest living organism, with a lifespan reaching up to 5,000 years. Flourishing in environments unsuitable for many other plants, bristlecone pines often are the first species to repopulate an ecosystem after major upheavals like lava run or glacial runoff. Inscriptions are "LIBERTY," "WE SHALL PERSEVERE," and "2023."
The reverse sports a young bald eagle standing as it prepares to take flight from a rocky outcropping. In large letters across the inner border is inscribed "UNITED STATES OF AMERICA."
The silver medal is struck at the principal U.S. Mint facility in Philadelphia.
2023 American Liberty Silver Medal Artist Information
Obverse Sculptor: Joseph Menna (Medallic Artist)
Obverse Designer: Elana Hagler (Artistic Infusion Program)
Reverse Sculptor/Designer: John P. McGraw (Medallic Artist)
2023 American Liberty Silver Medal Specifications
Denomination: none
Finish: Proof
Composition: .999 fine silver
Diameter: 1.598 in. (40.6 mm)
Weight: 1 troy oz. (31.103 g)
Edge: smooth
Mint Mark: "P" (Philadelphia)
2023 American Liberty Silver Medal Mintage
2023-P American Liberty Silver Medal: 21,308
Mintage numbers based on U.S. Mint sales figures as of August 15, 2023


< 2022 American Liberty Silver Medal