As part of the American Liberty Silver Medal series, five silver medals were issued in 2017 that featured the same designs as the 2017-W American Liberty 225th Anniversary $100 Proof Gold High Relief Coin to mark the United States Mint's 225th anniversary. Those designs featured the stunning portrait of Liberty as a black female wearing a crown of stars, created by Phebe Hemphill and sculpted by Justin Kunz, and the downward eagle in flight, designed by Chris Costello and sculpted by Michael Gaudioso.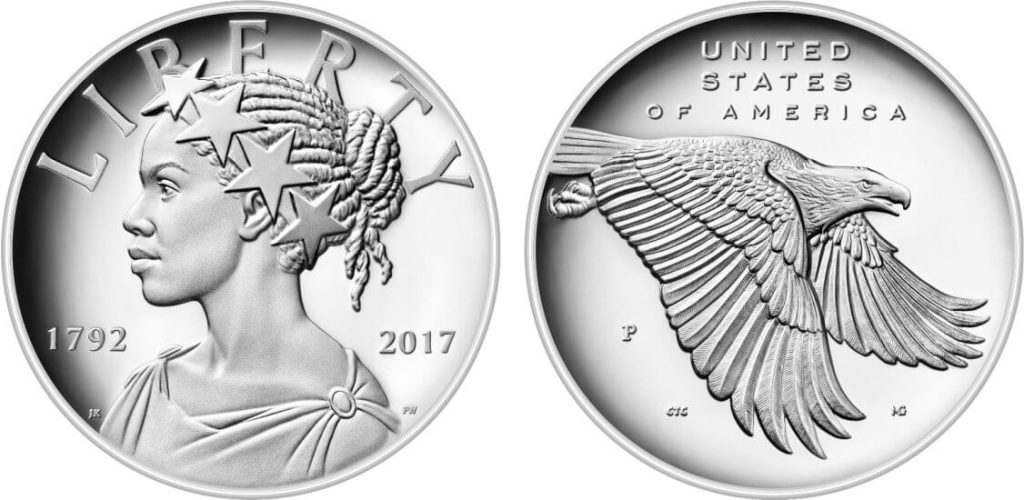 On June 14, 2018, the U.S. Mint released the 2017-P Proof American Liberty Silver Medal (Buy on eBay) with no mintage limit priced at $59.95. First-day sales were solid for the medal at 26,883, and it eventually reached cumulative sales of an impressive 45,992.
Numismatic observers noted that the supposedly "divisive" design of the gold coin proved to be quite popular on the silver medal, as it was on the $10 gold version of this piece, suggesting that the higher price point of the $100, 1-ounce gold coin was likely the main deterrent to stronger sales.
Each 1-ounce .999 Proof silver medal has a "P" mint mark and came in a black matte presentation case, and was accompanied by a booklet detailing the evolution of Liberty on American coinage.
Then on October 19, 2018, the U.S. Mint began accepting orders for the 2017 American Liberty 225th Anniversary Silver Four-Medal Set (Buy on eBay), which was the final product issued to mark the 225th anniversary of the Mint's founding.
Each set included four medals with the same Liberty and eagle designs as the earlier medal and gold coin, with each one having a unique finish and different mint mark, including the 2017-S American Liberty Silver Medal with a Proof finish, the 2017-P American Liberty Silver Medal with a reverse Proof finish, the 2017-D American Liberty Silver Medal with an uncirculated finish, and the 2017-W American Liberty Silver Medal with an enhanced uncirculated finish.
The sets were priced at $199.95 and limited to a maximum mintage of 50,000 units with a two-set per household limit. Each set was packaged in a custom-designed presentation case and came with a booklet about the history of Lady Liberty.
First-day sales of the set were 24,233, and the sets remained available throughout the following year. Sales ended on December 31, 2018, reaching a cumulative total of 32,507.
2017 American Liberty 225th Anniversary Silver Medal Artist Information
Obverse Sculptor: Phebe Hemphill (Medallic Artist)
Obverse Designer: Justin Kunz (Artistic Infusion Program)
Reverse Sculptor: Michael Gaudioso (Medallic Artist)
Reverse Designer: Chris Costello (Artistic Infusion Program)
2017 American Liberty 225th Anniversary Silver Medal Specifications
Denomination: none
Finish: Proof
Composition: .999 fine silver
Diameter: 1.598 in. (40.6 mm)
Weight: 1 troy oz. (31.103 g)
Edge: smooth
Mint Mark: "P" (Philadelphia), "D" (Denver), "W" (West Point), "S" (San Francisco)
2017 American Liberty Silver Medal Mintages
2017-P American Liberty Silver Medal: 55,187
2017 American Liberty 225th Anniversary Silver Four-Medal Set: 32,647


< 2016 American Liberty Silver Medal | 2019 American Liberty Silver Medal >