On August 14, 2019, the United States Mint began accepting orders for the 2019 American Liberty $100 High Relief Gold Coin (Buy on eBay), the first-ever U.S. gold coin with an enhanced uncirculated finish on it. The coin had a product and mintage limit of 50,000 coins.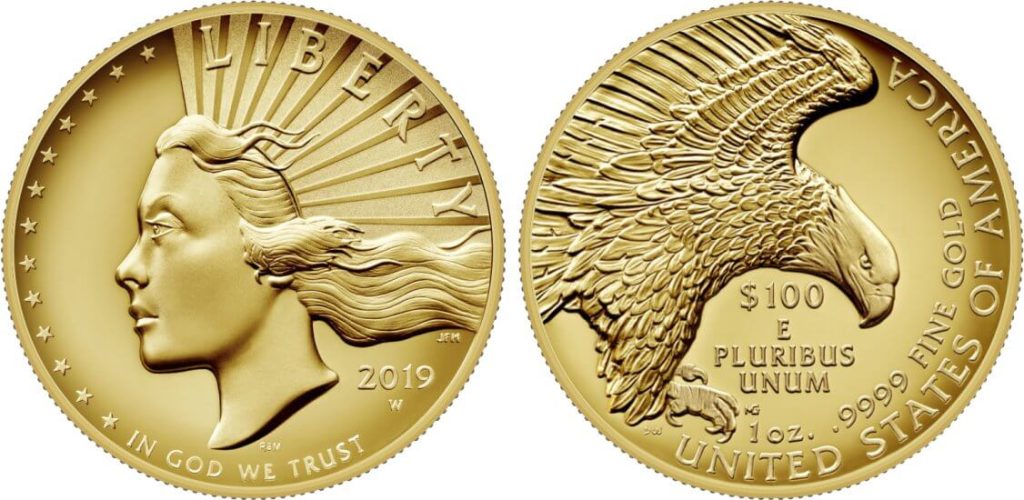 This $100 1-ounce, .9999 fine or 24-karat gold coin was struck at the West Point Mint in high relief, which is why the diameter is 30.6 mm (or 1.205 inches), smaller than that of an American Gold Eagle or American Gold Buffalo. It is also thicker, which allows the design elements to be raised more than those of regular relief coins.
The obverse design featured a sizeable left-facing profile of Lady Liberty wearing a headdress from which emanates 13 rays of light for the 13 original colonies. The motif is intended to symbolize the free and creative spirit of the American people. There are Inscriptions for "LIBERTY," "2019," and "IN GOD WE TRUST." This side was designed by Richard Masters of the Artistic Infusion Program and sculpted by Chief Engraver Joseph Menna.
The reverse features a bald eagle as it prepares to land. Inscriptions include "$100," "E PLURIBUS UNUM," "1 OZ.," ".9999 FINE GOLD," and "UNITED STATES OF AMERICA." This side was designed by Donna Weaver of the AIP and sculpted by Medallic Artist Michael Gaudioso. Each coin was hand packaged in a black lacquered hardwood presentation case and accompanied by a Certificate of Authenticity.
First-day sales were a modest 2,252, and the product remained on sale for an extended period. Cumulative sales by the time the piece was taken off sale were 24,609.
Graded examples, especially with certain labels and designations for the unusual finish, have sold for substantial premiums. PCGS marked the coins as either SP (Specimen), PL (Proof-like) or DMPL (Deep Mirror Proof-like), while NGC uses "SP Enhanced Finish" or "SP Ultra Cameo Enhanced Finish" because the company feels the surface of the coin more closely resembles that of Proofs than mint state pieces.
In July 2021, an example graded PCGS SP70 DMPL sold for $6,250.
2019 American Liberty Gold Coin Artist Information
Obverse Sculptor: Joseph Menna (Medallic Artist)
Obverse Designer: Richard Masters (Artistic Infusion Program)
Reverse Sculptor: Michael Gaudioso (Medallic Artist)
Reverse Designer: Donna Weaver (Artistic Infusion Program)
2019 American Liberty Gold Coin Specifications
Denomination: $100
Finish: enhanced uncirculated
Composition: .9999 fine gold
Diameter: 1.205 in. (30.61 mm)
Weight: 1 troy oz. (31.108 g)
Edge: reeded
Mint Mark: "W" (West Point)
2019 American Liberty Gold Coin Mintage
2019-W American Liberty $100 High Relief Gold Coin: 24,609


< 2018 American Liberty Gold Coin | 2021 American Liberty Gold Eagle >