On February 9, 2018, the United States Mint released a one-tenth-ounce Proof version of the 2017 American Liberty 225th Anniversary $100 Gold Coin, like the earlier coin for buyers who could not afford the one-ounce piece.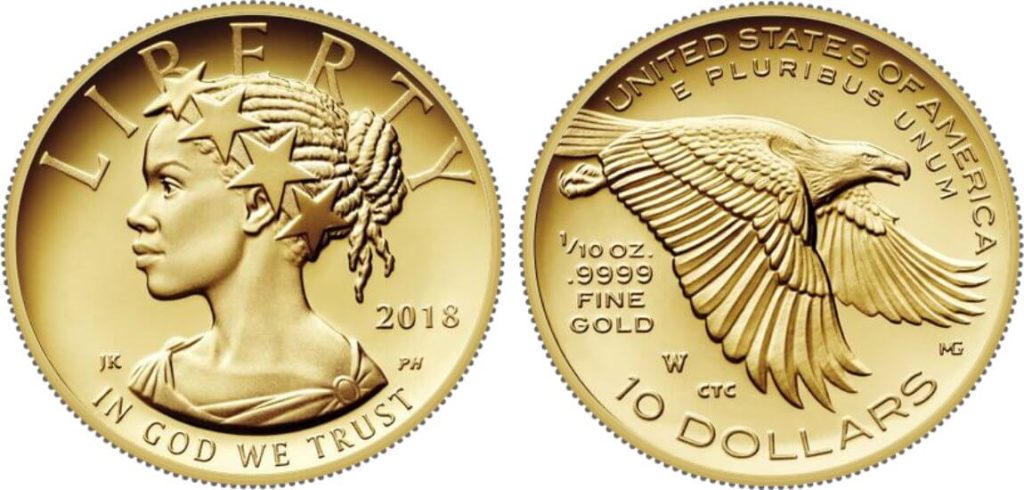 The 2018-W American Liberty $10 Gold Proof Coin (Buy on eBay) features the same modern rendition of Liberty as an African-American woman on the obverse and an eagle in flight with its wings spread on the reverse.
It was priced at $215 and had a maximum authorized mintage of 135,000. First-day sales, which for most coins are when a substantial portion of that issue is sold, were just 9,852. The following day the household order limit was lifted.
The coin is packaged in a burgundy presentation case that is lined with satin and comes with a certificate of authenticity.
The new coin was the first modern Liberty issue of its size and the first Proof coin of that size that is not part of the American Eagle series since the fractional Buffalo gold coins of 2008.
Graded examples sold for a good premium, and the coin has remained on sale for over three years.
Today it is priced at $330 because of the rise in spot gold prices. Cumulative sales through July 2022 are 49,320, about 15,000 more than the 2017 version of the coin that is also still on sale.
2018 American Liberty 225th Anniversary $10 Gold Coin Artist Information
Obverse Sculptor: Phebe Hemphill (Medallic Artist)
Obverse Designer: Justin Kunz (Artistic Infusion Program)
Reverse Sculptor: Michael Gaudioso (Medallic Artist)
Reverse Designer: Chris Costello (Artistic Infusion Program)
2018 American Liberty 225th Anniversary $10 Gold Coin Specifications
Denomination: $100
Finish: Proof
Composition: .9999 fine gold
Diameter: 0.650 in. (16.5 mm)
Weight: 0.1000 troy oz. (3.110 g)
Edge: reeded
Mint Mark: "W" (West Point)
2018 American Liberty 225th Anniversary $10 Gold Coin Mintage
2018-W American Liberty 225th Anniversary $10 High Relief Gold Coin: 52,403


< 2017 American Liberty Gold Coin | 2019 American Liberty Gold Coin >