In late 2021, United States Mint officials announced that a silver medal bearing the same design of a bucking Mustang horse that represented the American desire to buck off British rule in the late 18th century and appeared on the 2021-W American Liberty $100 High Relief Gold Coin would be released in 2022.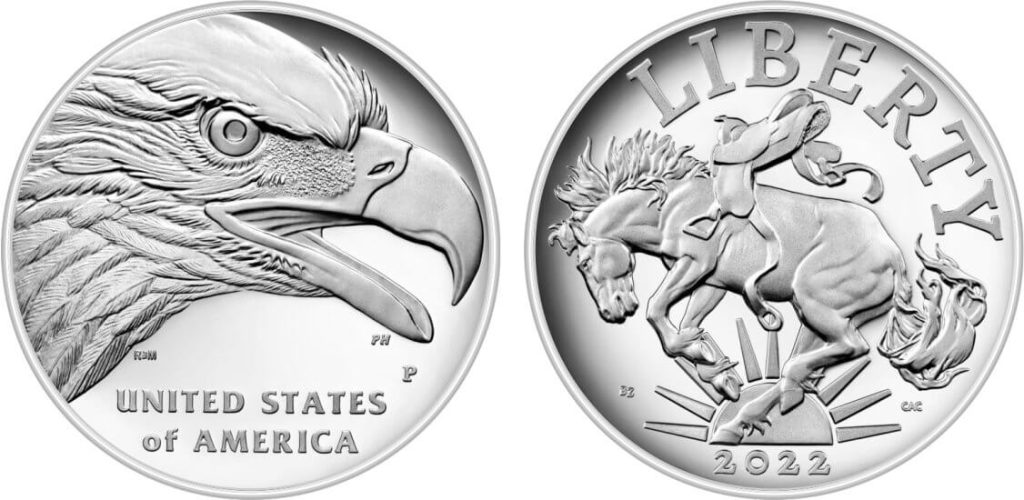 They also indicated that they were considering a possible $10, tenth-ounce gold version similar to the 2018-W $10 American Liberty Gold Coin but with the 2021 gold coin design.
The obverse motif of a Mustang horse is the "ancestor to all true horses alive today evolved here in North America. Those horses inexplicably disappeared at the end of the last Ice Age, only to be accidentally re-introduced in their domesticated form by the Spanish in the 1500s, having earlier reached Eurasia by way of the Bering land bridge," according to the Mint.
On August 18, 2022, the U.S. Mint released the 2022-P American Liberty Silver Medal (Buy on eBay), which is made of 1-ounce of .999 fine silver, has a plain edge and is struck in Proof but not in high relief like the 2021 American Liberty Gold Coin. It had a product and mintage limit of 75,000 and no household order limit.
Given how quickly the 2021 gold coin sold out and the much lower price point of the silver medal, which had an issue price of $75, this piece was expected to be a strong seller.
2022 American Liberty Silver Artist Information
Obverse Sculptor: Craig Campbell (Medallic Artist)
Obverse Designer: Beth Zaiken (Artistic Infusion Program)
Reverse Sculptor: Phebe Hemphill (Medallic Artist)
Reverse Designer: Richard Masters (Artistic Infusion Program)
2022 American Liberty Silver Medal Specifications
Denomination: none
Finish: Proof
Composition: .999 fine silver
Diameter: 1.598 in. (40.6 mm)
Weight: 1 troy oz. (31.103 g)
Edge: smooth
Mint Mark: "W" (West Point)
2022 American Liberty Silver Medal Mintages
2022-W American Liberty Silver Medal: 72,270
Mintage numbers based on U.S. Mint sales figures as of August 15, 2023


< 2019 American Liberty Silver Medal | 2023 American Liberty Silver Medal >