On August 15, 2019, the 2019 American Liberty $100 Gold Coin of the same design was launched, and the United States Mint began selling the corresponding silver medal, the 2019-P American Liberty High Relief Silver Medal (Buy on eBay), which was unusual in several respects.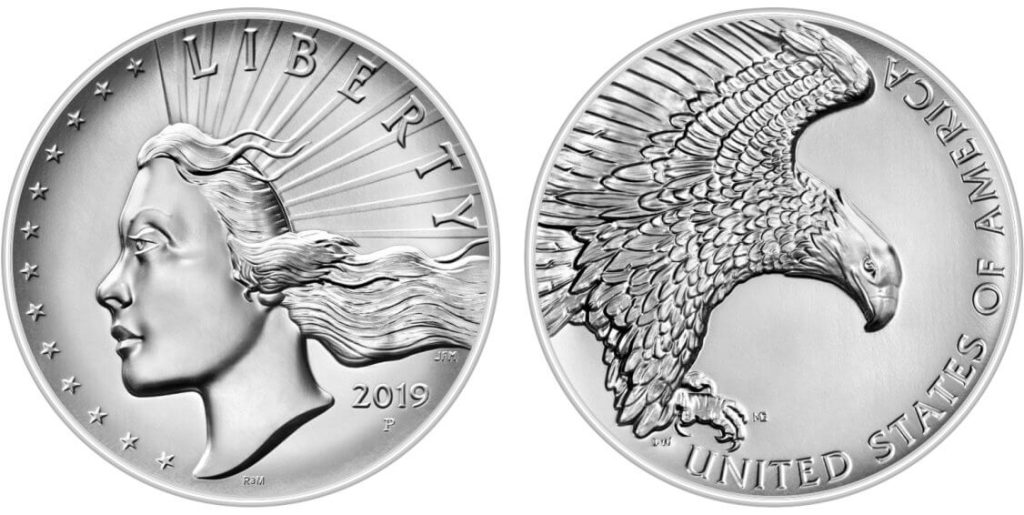 First, the medal was made of 2.5 ounces of .999 fine silver, a weight that had never been used before on a modern U.S. Mint silver medal.
Furthermore, the diameter was larger than any prior medal at 50.8 millimeters or 2 inches. Finally and most importantly, the medal was the first modern U.S. Mint struck in full high relief.
This year was also the first time in the American Liberty Program that the gold coin and silver medal were issued simultaneously.
The medal featured Richard Masters' stunning design of Liberty as she looks on with determination while her long hair blows behind her and bright rays of sunlight radiate behind her head. Thirteen stars representing the original 13 colonies encompass half of the medal's border.
The reverse of the medal features Donna Weaver's take on the classic eagle design. An intricately detailed eagle in mid-flight reaches out its talons in this breathtaking image.
Each medal carried a "P" mint mark for the Philadelphia Mint, where it was struck, and was housed in a black matte presentation box and came with a certificate of authenticity.
Priced initially at $99.95, first-day sales of this medal were 7,870 units. By the time sales ended, 44,928 medals had been sold, and the price had been raised to $175.
The medal has been a winner in the secondary market, especially examples graded SP70.
2019 American Liberty High Relief Silver Medal Artist Information
Obverse Sculptor: Joseph Menna (Medallic Artist)
Obverse Designer: Richard Masters (Artistic Infusion Program)
Reverse Sculptor: Michael Gaudioso (Medallic Artist)
Reverse Designer: Donna Weaver (Artistic Infusion Program)
2019 American Liberty High Relief Silver Medal Specifications
Denomination: none
Finish: matte
Composition: .999 fine silver
Diameter: 2 in. (50.8 mm)
Weight: 2.5 troy oz. (77.76 g)
Edge: smooth
Mint Mark: "P" (Philadelphia)
2019 American Liberty High Relief Silver Medal Mintage
2019-P American Liberty Silver Medal: 44,928


< 2017 American Liberty 225th Anniversary Silver Medals | 2022 American Liberty Silver Medal >