On August 10, 2023, the United States Mint will release the 2023 American Liberty High Relief $100 Gold Coin (Buy on eBay) with a mintage and product limit of 12,500 coins and a household order limit of 3 coins.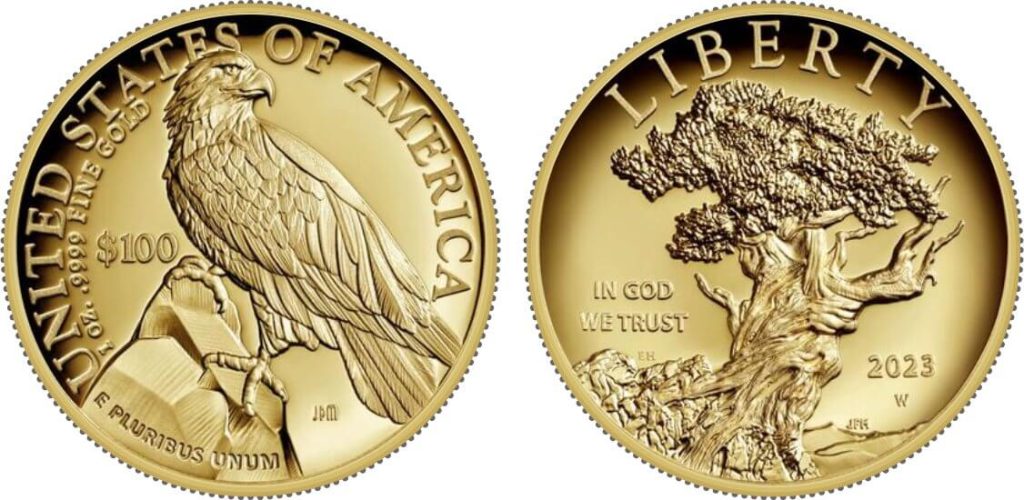 Struck in .9999 fine gold, or 24-karat gold, this 1-ounce coin is the latest release in the popular American Liberty gold coin and silver medal series that began in 2015 and features the same design on the coin and medal.
The 2023 release features an image of Liberty as a bristlecone pine, one of the planet's oldest organisms, on its obverse that was designed by Elana Hagler of the Artistic Infusion Program and sculpted by Joseph Menna, Medallic Artist and Chief Engraver at the U.S. Mint.
The bristlecone pine is thought to be one of the oldest living organisms on Earth and can live as long as 5,000 years. In the aftermath of a cataclysmic event, these trees are among the first species to repopulate the environment.
The reverse of this stunning gold coin features a striking image of a bald eagle standing proud on a rock as it prepares to take flight. There are inscriptions for "UNITED STATES OF AMERICA," 1 OZ," ".9999 FINE GOLD," "$100," and "E PLURIBUS UNUM."
These coins are struck in Proof and with a high relief finish. They are the only high relief gold coins the Mint produces.
2023 American Liberty Gold Coin Artist Information
Obverse Sculptor: Joseph Menna (Medallic Artist)
Obverse Designer: Elana Hagler (Artistic Infusion Program)
Reverse Sculptor/Designer: John P. McGraw (Medallic Artist)
2023 American Liberty Gold Coin Specifications
Denomination: $100
Finish: Proof
Composition: .9999 fine gold
Diameter: 1.205 in. (30.61 mm)
Weight: 1 troy oz. (31.108 g)
Edge: reeded
Mint Mark: "W" (West Point)
2023 American Liberty Gold Coin Specifications
2023-W American Liberty $100 High Relief Gold Coin: 8,842
Mintage numbers based on U.S. Mint sales figures as of August 15, 2023


< 2021 American Liberty Gold Coin